Exploring Eldercare Event
USG Co-Hosted with UMB's Nursing and Social Work Program
November 2, 2018 11:46 AM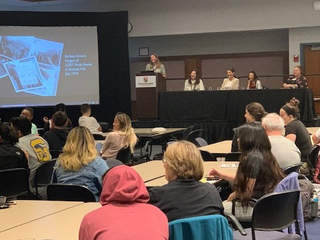 UMBC's Social Work Program worked with UMB's Nursing and Social Work program to co-host the Exploring Eldercare event on October 23rd. 
Lisa Harfoot moderated the event and it was a tremendous success.  We showed two short video clips to address the elder population growth and their strength and needs, and then Lisa guided the four panelists through a thoughtful discussion.  
After the panel presentation, students asked questions and then visited with agencies that serve the elder population. We had about 70 students attend and Lisa did an amazing job!