Dr. Kusmaul Receives UBSSW Distinguished Ph.D Alumni Award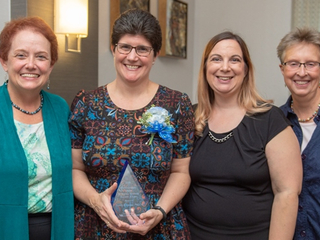 This award was established in 2013 and honors an outstanding University at Buffalo School of Social Work alumna who has made noteworthy contributions to social work practice and/or research and who, by their positive attitude and drive to make a difference, have added distinction to the social work profession.  In addition to your honor we are recognizing a distinguished MSW (Dr. Toby Laping, MSW 1963) and, for the first time, a distinguished JD/MSW graduate (Lisa Kaseman, JD/MSW 2006). 
Dr. Kusmaul attended a mixer in New York to commemorate her achievements!
Congratulations to Dr. Nancy Kusmaul! 
**Photo credit to 
Onion Studio