BreakingGround Scholarship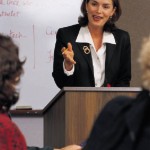 The new $500 BreakingGround Social Work Scholarship is for social work majors with junior standing who have displayed UMBC's entrepreneurial approach to civic involvement and engagement.
Students are required to submit a résumé and an essay (maximum two pages) addressing the following topics:
Define what civic engagement means to you.
Describe civic engagement or social action activities that you have displayed within the Social Work Program, on the UMBC campus, and/or in the greater community.
Describe in detail your innovative plans for continuing your civic engagement  or social action activities and how this money will empower you to solve real-world problems in the next academic year, if you were awarded this scholarship.
The Recipient will be expected to attend the Social Work Graduation Celebration to personally accept the award.
Please return your resume and essay to:
Dr. Jessica Guzman-Rea
UMBC Social Work Program
1000 Hilltop Circle, Academic IV-B
Room 322
Baltimore, MD 21250
DEADLINE: MARCH 29